TOP 10 TIPS
TO MAINTAIN YOUR WEBSITE
Is your Website at risk?  Everything you need to know to keep your website maintained.
Please enter your name and email address and we will send your top 10 tips on what you need to do to keep your website safe.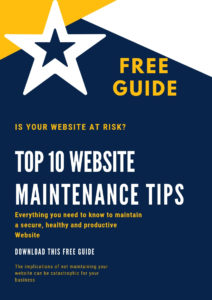 With this Guide you will be able to:
Protect your website from Hackers.
Keep your website online and ranked in Search Engines.
Maintain the health of your database.
Minimise downtime in the event of disaster.
Retain complete control of your website.
Protect your business and biggest business asset.
And much much more.........